Future Band Members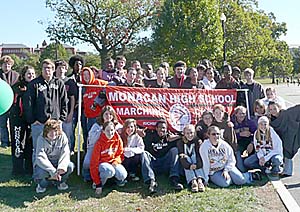 Are you planning to attend high school at Monancan? If so, we want you to be a part of the Monacan Chiefs Band program! Plans for the 2016-2017 edition of the Monacan Marching Chiefs are taking shape and we want you to be a part of it! Learn more about our upcoming marching band season, other band opportunities, and the benefits of becoming a participant in a school band program (all documents are in PDF format).
Middle School Night with Marching Chiefs!
Top 10 Reasons to Have Your Child Participate in High School Band
How do I fit Band in my busy school schedule?
Whether you are enrolled in the Humanities program, the Health and Physical Therapy (HPT) program, or striving for your advanced diploma, there is still room in your schedule to participate in band! See the pdf documents below to see how.
Humanities with Band Four Year Plan
Advanced Diploma with Band Four Year Plan
Did you know…?
In a recent music education survey, 73% of respondents agree that teens who play an instrument are less likely to have discipline problems.
According to research studies by the Center for Timing, Coordination, and Motor Skills, students who can perform complex rhythms can also make faster and more precise corrections in many academic and physical situations.
A 10-year study at UCLA indicated that students who study music achieve higher test scores, regardless of socioeconomic background.
A Columbia University study showed that, regardless of socioeconomic levels, students in the arts are found to be more cooperative with teachers and peers, more self-confident, and better able to express their ideas.
College admissions officers continue to cite participation in music as an important factor in making admissions decisions, as music participation demonstrates time management, creativity, expression, and open-mindedness.